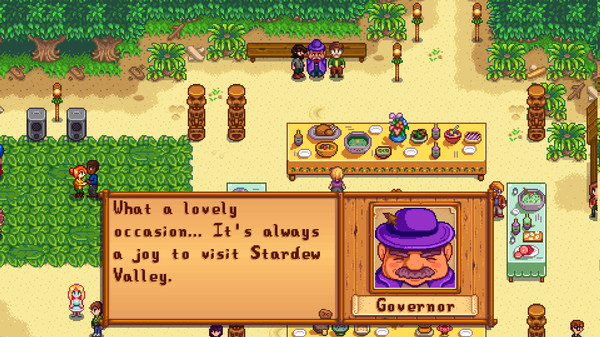 Source: Steam
To kick this off I wanted to stress that this isn't necessarily a game review, rather an acknowledgement of why I believe Stardew Valley to be an important game. I must admit however, I will probably mention frequently how much I love this game. It is fantastic.
In a nutshell, Stardew Valley is focused around the player who in the epilogue is seen to be living a stressful and unfulfilling city life. The player's grandfather is witnessed on his death bed leaving the player his farm in the small town of Stardew Valley, as he understands how the player is feeling and believes that this could be the opportunity for real change. This is is when you begin your life on the farm.
Now, the majority of what makes Stardew Valley a profound game is within the interactions you have with the citizens of this quaint town. When you gain control of your character, you begin to talk to others within the town and find that they're a varied bunch who have a wide range of personalities. The friendships you forge with these people are influenced by how often you talk to them, pay attention to the gifts they like to receive, and how you interact with them in particular situations. Not all of the townsfolk react the same however, with some of them described as having their own demons.
One member of the population is known to have a problem with alcoholism as a result of depression, whilst another is shown to be a sufferer of anxiety, with another suffering from PTSD. These issues are in no way shoehorned into the gameplay, rather they are highlighted through the interactions you have with them and the various encounters you observe. To me, this is incredible. The game conveys the particularly simple idea that if you invest time into the people you care about, you'll be rewarded with deep friendships and meaningful interactions. The portrayal of these issues is delicate yet somewhat hard-hitting, and definitely has the potential to provoke thought.
The gameplay itself is fantastic, as there are no rules or obligations. You can either create a produce-focused empire in which you grow hundreds of crops and gain massive amounts of wealth, or you can simply chat to others and spend your days fishing or exploring. There is a story, though it is never intrusive and there is never any pressure to further the story as the game will happily carry on until you're ready to progress. I personally love to take my time with games, and in fact with most activities – I'll roam and explore and just enjoy myself. Sometimes I really need that couple of hours of winding down, and Stardew Valley feels purpose-built for that task.
It's definitely worth mentioning that the soundtrack is beautiful, and has on multiple occasions managed to calm me down whenever I've felt myself getting worked up. The graphics also allow it to be incredibly accessible on consoles, PC's, laptops, and soon mobile phones. Plus, it's very reasonably priced.
This game means an awful lot to me, as silly as it may sound. My girlfriend and I often play together through multiplayer and find ourselves losing massive amounts of time to it. A game that can elicit such strong feelings whilst being incredibly relaxed, is nothing short of a masterpiece.